Despite the fact that I do almost all my fiction reading in ebook format now, I still love my old favourites and new cookbooks. Specifically, those that focus exclusively on baking. When I feel I need inspiration, I'll turn to those I already have worked for me many times, but sometimes I'll find a book that is just too tempting not to add to my collection. I've donated books that didn't have enough photos because what most bakers (like me) want to see is what the finished product should look like. And, if we're being perfectly honest, beautiful cookbooks are food porn - it's no different than why we watch the Food Network, right? ;)
I recently bought the most beautiful book for my good friend and baking buddy Teresa. Butter is by Rosie Daykin, a Canadian baker with two shops in Vancouver, BC. The book is gorgeous - the photography and layout make you (me?) want to bake everything in there! Apart from the recipes, the look of the book so pretty - nostalgic rose print end papers and a lovely green satin bookmark ribbon. Teresa was thrilled with her birthday gift and I decided I liked it so much that I had to get one for myself. It features so many traditional Canadian recipes, like Nanaimo bars and butter tarts and I especially loved the suggestion to add Smarties to cookies - you can't get much more Canadian than that!
All book images courtesy Amazon.ca
Earlier this summer I also picked a baking book by a reliable source - Better Homes and Gardens Baking. While some of the recipes might not be that innovative, they are reliable, which is what I want in baking recipes. You can't go wrong with this book either and it's a great help having the basics on hand when you need a reference.
I bought Flour: A Baker's Collection of Spectacular Recipes after reading Bakerella's review a few years ago and being especially intrigued with the homemade Oreo recipe. The mixed berry scones also looked delish. I'm hoping to try both recipes this fall.
One of my most reliable baking guides is the Complete Canadian Living Baking Book: The Essentials of Home Baking. I went to a demonstration by Elizabeth Baird, the author of this book and learned so much there that I had to get the book. It's never disappointed me whether it's trying a new recipe or checking in the "essential" section to clarify a technique.
The other little item I find inspiring and have been wanting to try for ages is the Nordic Ware Cake Pops Pan. I found a great deal at Homesense (Homegoods to my US friends) - how could I pass up this pan for $7, especially when they are my favourite baking pans by far.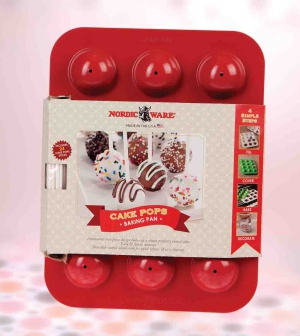 Image courtesy Google.com
With an upcoming family birthday and Thanksgiving in October, I'm already planning what I want to make next this fall.